Discover our latest bridesmaid and flower girl collection available in an abundance of colours in satin or chiffon or alternatively you can mix the two.

Please bear in mind that dresses take a minimum delivery time of 12 weeks.

We also offer a bespoke dressmaking service if you would like to create your own unique look for your bridesmaids.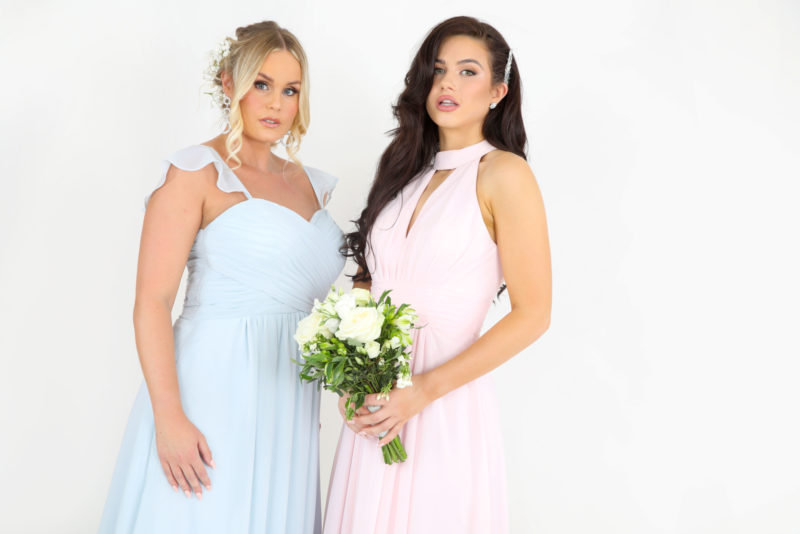 Caroline is absolutely amazing! Myself and my 4 bridesmaids visited Caroline a few times during the run up to my wedding, she was so lovely and nothing was ever too much trouble. I can't recommend her enough. One of my bridesmaids was 8 months pregnant at the time of my wedding and Caroline couldn't do enough to make sure the dress fitted her perfectly and any alterations that needed doing closer to the wedding date were done.

- Grace Bisp -
I found Caroline by searching Google for someone to alter my daughter's wedding dress plus her two bridesmaids dresses. I could see she had previously received very positive reviews, so we travelled 20 miles to see her rather than using a local dressmaker. We found her very friendly, professional and attentive whilst giving good advice in terms of the alterations required for each of them. I would definitely recommend.

- Jane Madden -
Caroline altered 2 bridesmaids dresses for us and did a fantastic job! I am 7 months pregnant and the dress was no where near suitable when I took it to her but fits and looks great now! She was totally flexible and made time to alter the dress just 2 weeks before the big day! I will definitely be using Caroline again in the future!

- Helen Guest -
Book an Appointment
To come and view our extensive bridesmaid dress collection